The cottage is situated in a quiet position away from the main road and passing traffic, there is parking close by and you are able to park directly in front of the cottage to off load only. The cottage exudes a friendly welcome & a cosy ambiance. Situated in the village of Llan Ffestiniog, known locally as Llan and sometimes shown as Ffestiniog on maps, is a close neighbour of the larger town, better known as Blaenau Ffestiniog.
The village stands amongst some dramatic scenery; to the east there is the broad open, moorland wilderness of the Migneint, whilst to the south and west, Llan Ffestiniog stands atop the glorious Vale of Ffestiniog, a deep sheltered valley of thick woodland and green river meadows.
From the village's old railway station, a path runs parallel to the railway down into the wooded valley of the River Cynfal, leading to the picturesque Cynfal Falls,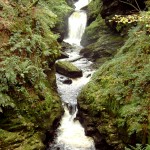 (Rhaeadr Cynfal). The rock above the falls is known as Huw Llwyds pulpit, named after a 17th century wizard and bard. The river tumbles further down into the alpine-style valley, to join the River Dwyryd and more romantic scenery. Further up the river there are other waterfalls, including Rhaeadr Y Cwm, with a 120ft drop.
Its lofty situation, atop the lovely Vale of Ffestiniog, makes Llan Ffestiniog a good base for a quiet relaxing break, whilst being centrally located for excursions further afield, such as the World Famous Ffestiniog narrow gauge steam railway, Llechwedd slate caverns, many CADW heritage sites, such as Harlech Castle, and the Italianate village of Portmeirion is only a short drive away.
A short drive away is Coed y Brenin, one of the best mountain bike centres in Britain and, the best bit is, it's free! Bikes are available for hire and the visitor centre offers a good selection of snacks. Exciting plans are underway for a world class downhill biking centre above Blaenau Ffestiniog along with a network of other biking routes to suit all tastes.
The village has a small local shop, post office and community run pub. The renowned Grapes Inn, a 17th Century Coaching Inn & Restaurant is only 2 miles away and there is a welcoming pub, The Wynne's Arms only 1.5 miles away. The town of Blaenau Ffestiniog offers a range of public houses, eating establishments, gift shops, chemist, petrol station/garage and leisure centre.
In 1776, Lord George Lytton toured through Wales, when he arrived at Ffestiniog he wrote; "Nothing remarkable occurred in our ride, until we came to Ffestiniog, the Vale before which is the most perfectly beautiful of all we had seen …. with the woman one loves, with the friend of one's heart, and a good study of books, one might pass an age there, and think it but a day. If you have a mind to live long and renew your youth, come and settle in Ffestiniog".